Over the next few posts, I'm going to share some of the cool super-nice-to-have fitness gadgets that someone on your gift-giving list would probably like.  Perhaps this post is totally self-serving, but I've been buying running-related Christmas gifts for nearly 40 years now– I'm sure my mom bought my dad running socks for my first Christmas and put my name on the tag– so I speak with some authority here.
Let's start small:
The very best athletic socks in all the world are DeFeet.
Thin, form-fitting socks that wear incredibly well.  They make sport-specific socks for both running and cycling, too.  Not a year goes by that I don't get a pair for Christmas.  I make sure some wind up in my stocking, even if Santa forgets.
Next, every cardio junkie needs to hydrate.  Even if your bike already has a water bottle holder on it, chances are that you could use a new bottle.
(Have you REALLY looked at the inside of your water bottle lately.  No?  Well don't.  Trust me.  Just ask for a new one for Christmas.)
And if you're giftee is a runner, check out this handheld bottle holder that has a place for your phone, right there in the palm on the backside of your hand:
If you're looking for a little more whiz-bang gadgetry, I know tons of people who simply CANNOT go for a run or a ride without their GPS watch.  Garmin is the leader in this technology, though Nike has several popular models, too.  Just be careful– there are so many different models with varying bells and whistles, you want to make sure you're getting what your giftee really wants.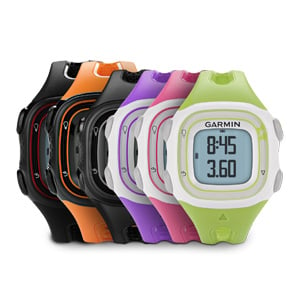 And because I know there are lots of different budgets out there, I'd be remiss if I didn't include something for the big spenders.  (Honey!  If you're reading this, PLEASE, PLEASE, PLEASE with a cherry on top buy this for me!  I promise I won't look as cheesy as the lady in the picture!)
The Lifespan Treadmill Desk (several models available) will help keep those people who just can't seem to sit still happy all day long.  Productive and happy– my two favorite things!
Hope this gives you (ahem, YOU!) some ideas of good gifts for the runners and cyclists on your holiday gift-giving list.
Good health and great happiness to you!
Disclaimer: I get absolutely nothing from promoting the brands and products in this blog post.  I just like to blog about things I like.  And want.